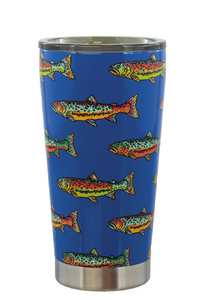 16oz Trout Tumbler - Slide Lid
BSN003-SFM
Made of double walled, insulated food-grade stainless steel, this fun and exciting new
collection from the Socksmith Design team, features some of our best selling graphics on some of the highest quality water bottles!
Bottlesmith bottle features:
- Double wall vacuum insulated stainless steel bottles.
- Our bottles are made from food-grade stainless steel which does not leach so our bottles do not require a lining.
- The difference between using aluminum and stainless steel (we use stainless steel):
Aluminum can leach into water and therefore aluminum water bottles require a plastic or epoxy lining.
- Hand-washing with non abrasive dish soap is recommended cleaning, dishwashing is not.
- The lids are manufactured out of Polypropylene (PP#5), a BPA-Free and non-leaching
plastic.
- You can use the bottles for hot and cold beverages as well as carbonated liquid, but do NOT put these bottles in the freezer. As with any carbonated beverages that are in a container, there may be pressure build-up which can cause leakage or splash upon
opening (common sense).
- Because we digitally print Bottlesmith graphics on our bottles, we not only add texture and depth to the designs, but by using UV/LED curable ink, the process of drying cures the ink faster and therefore uses much less energy!
---
We Also Recommend