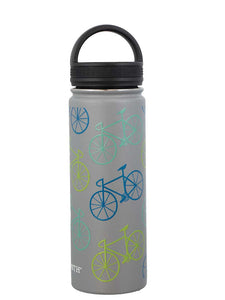 20oz Fixie Bottle - Loop Lid
BSN016-CGY
20 oz Insulated Bottle with an insulated loop lid - Height without lid: 9", Diameter 3"
Made of double walled, insulated food-grade stainless steel, this fun and exciting new
collection from the Socksmith Design House features some of our best selling graphics on
some of the highest quality water bottles!
Bottlesmith bottle features:
- Insulated, double wall vacuum-sealed bottles.
- Imported and made of the highest quality 18/8 stainless steel (that's fancy talk which
means it's very resistant to corrosion and oxidation).
- You can recycle your bottles anywhere you'd recycle your aluminum cans and our #5
plastic caps can be recycled too.
- Throw your lid in the top-rack of the dishwasher and hand wash your stainless steel bottle
with mild soap and warm water, using a long soft brush to get those hard to reach places.
- Use your bottles for hot and cold beverages as well as carbonated liquid, but do NOT put
them in the freezer! As with any carbonated beverages in a container, there may be
pressure build-up which can cause leakage or splash upon opening, so be careful.
---
We Also Recommend